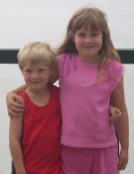 Ben and Jemma


Jemma - Click here to visit my blog
I am 7 at the moment and will be 8 when we leave for our BIG adventure - and 9 when we get back! I know I will miss my friends at school but I am looking forward to seeing all the countries and will have lots of stories to tell when I get back ! I am looking forward to being able to swim in lots of the countries - even though I'm abit worried about sharks , crocodiles and alligators!...

Ben
I am 5 now and will be 7 when we get back from our trip around the world........I am looking forward to Australia and seeing the black Widows?! Also, I have always said I'd love to go to Russia !!